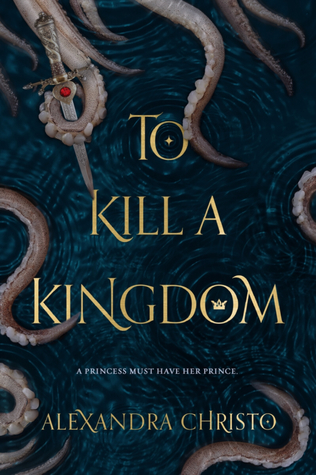 To Kill a Kingdom
By
Alexandra Christo
342 pages | March 6th 2018 | Feiwel Friends
Princess Lira is siren royalty and the most lethal of them all. With the hearts of seventeen princes in her collection, she is revered across the sea. Until a twist of fate forces her to kill one of her own. To punish her daughter, the Sea Queen transforms Lira into the one thing they loathe most—a human. Robbed of her song, Lira has until the winter solstice to deliver Prince Elian's heart to the Sea Queen or remain a human forever.
The ocean is the only place Prince Elian calls home, even though he is heir to the most powerful kingdom in the world. Hunting sirens is more than an unsavory hobby—it's his calling. When he rescues a drowning woman in the ocean, she's more than what she appears. She promises to help him find the key to destroying all of sirenkind for good—But can he trust her? And just how many deals will Elian have to barter to eliminate mankind's greatest enemy?
I had been waiting a long time for a really good Siren story. To find something that portrayed the beautiful but equally strong and terrifying creatures that legends intended them to be. The story was filled to the brim with wit and adventure. Clever banter with an unapologetically badass heroine. It was one of those books I couldn't put down once I started.
The imagery was amazing and it was so well written that the story seemed to leap off the page and my mind came to life. I wasn't just reading the story, I was experiencing it, fully immersed in the pages of the book. Everything within the story was so beautifully crafted and flowed in a way that read effortlessly.
This is the second read this year that has simply blown my mind and I recommend you get your hands on it as soon as you can. For a debut novel, it has left me utterly speechless.
Alexandra Christo decided to write books when she was four and her teacher told her she couldn't be a fairy. She has a BA in Creative Writing and works as a copywriter in London, both of which make her sound more grown up than she feels. When she's not busy making up stories, she can be found buying far too many cushions and organizing food crawls all over the city.
Alexandra currently lives in Hertfordshire with an abundance of cacti (because they're the only plants she can keep alive).