Guardians Of The Galaxy Vol. 2
Director: James Gunn
PG-13 | 2h 16min | Action, Adventure, Sci-Fi | 5 May 2017
The Guardians must fight to keep their newfound family together as they unravel the mystery of Peter Quill's true parentage.
Huh. That was the only expression I had after watching Guardians Vol. 2. This might have been one of those scenarios where it was best to go in with no expectations but after how much I loved the first film, I was expecting a bigger better one this time around.
Instead, it just felt like... a lot more of the same jokes but the actual story was forced and felt almost like they were really reaching for something they just didn't achieve.
The first movie managed to do, as Marvel does so well, balance a serious storyline all while embracing the humour and absurdity that is Guardians of The Galaxy.
This movie seemed to struggle to find that balance and frankly, its only real saving grace was Baby Groot. Who would have even thought you'd hear me say that Vin Diesel saved a movie, seriously.
Everytime you were getting bored and wondering why you were wasting your time on this story, Baby Groot would have an adorable and or hilarious moment and bring you back.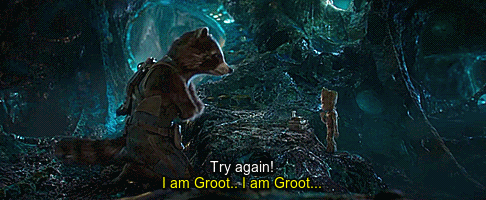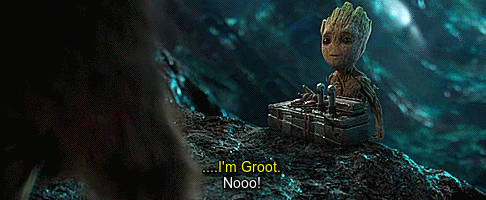 I
HATED
Ego as the father of Peter Quill. I think the director made a huge mistake changing the Canon for this storyline because well, it was just the worst. It was corny and bad and it overshadowed everything else. On top of taking away from the Guardians story, Kurt Russel was just bad I'm sorry. In a cinematic universe that brought us likeable, relatable villains such as Loki, I expected so much better.
I
LOVED
Yondu in this film. Here we have a man we thought was a villain who really was just trying to be a Dad, create a family. I think his
*SPOILER ALERT*
sacrifice was really a touching moment though I was confused why they bothered bringing up the whole Ravager issue when they weren't going to elaborate on that backstory more that that weird scene with Sylvester Stallone.
In review, I guess, if you're a Marvel fan you should see it though it really didn't provide anything more to the MCU in my opinion. I expected there to be a bigger focus on the infinity stones and learning more about the different planets and realms and ...while it touched on them briefly, it didn't give us much to take away.
As a Marvel fan, I'm sad to say that I wished I'd seen Wonder Woman instead.
The Scribe of Siena
by
Melodie Winawer
464 pages | May 16th 2017 | Touchstone
Equal parts transporting love story and gripping historical conspiracy—think The Girl with a Pearl Earring meets Outlander—debut author Melodie Winawer takes readers deep into medieval Italy, where the past and present blur and a twenty-first century woman will discover a plot to destroy Siena.
Accomplished neurosurgeon Beatrice Trovato knows that her deep empathy for her patients is starting to impede her work. So when her beloved brother passes away, she welcomes the unexpected trip to the Tuscan city of Siena to resolve his estate, even as she wrestles with grief. But as she delves deeper into her brother's affairs, she discovers intrigue she never imagined—a 700-year-old conspiracy to decimate the city.
After uncovering the journal and paintings of Gabriele Accorsi, the fourteenth-century artist at the heart of the plot, Beatrice finds a startling image of her own face and is suddenly transported to the year 1347. She awakens in a Siena unfamiliar to her, one that will soon be hit by the Plague.
Yet when Beatrice meets Accorsi, something unexpected happens: she falls in love—not only with Gabriele, but also with the beauty and cadence of medieval life. As the Plague and the ruthless hands behind its trajectory threaten not only her survival but also Siena's very existence, Beatrice must decide in which century she belongs.
The Scribe of Siena is the captivating story of a brilliant woman's passionate affair with a time and a place that captures her in an impossibly romantic and dangerous trap—testing the strength of fate and the bonds of love.
I wasn't sure what to expect when I read the synopsis of this book, only that it sounded similar to Outlander and I knew that I'd enjoyed (am still enjoying, give me a break it's a long audio book) that story. So I figured this one would be equally enjoyable. The short, yes and no.
I enjoyed it but I wasn't thrilled or wowed by it. Tuscany is one of my favourite regions of Italy and I was excited at the prospect of seeing a modern day woman thrown into the middle of it hundreds of years ago. That portion of it was sort of underwhelming. It felt like the historical aspect and goals of the heroine were drowned out beneath the romance. I love romance in literature, I do, but I don't like when it overshadows the plot.
I would have loved to have seen this story without the romance and see what it could have become, or at least without much of the romance. I think the intrigue of the story drew me in had nothing to do with the romance and everything to do with the discovery of this ancient conspiracy.
I definitely recommend reading it. It was enjoyable it just wasn't my favourite.
Thank you to Simon & Schuster Canada for the ARC of this novel.
Photograph © Dana Maxon
Melodie Winawer is a physician-scientist and Associate Professor of Neurology at Columbia University. A graduate of Yale University, the University of Pennsylvania, and Columbia University with degrees in biological psychology, medicine, and epidemiology, she has published forty-seven nonfiction articles and book chapters. She is fluent in Spanish and French, literate in Latin, and has a passable knowledge of Italian. Dr. Winawer lives with her spouse and their three young children in Brooklyn, New York. The Scribe of Siena is her first novel.