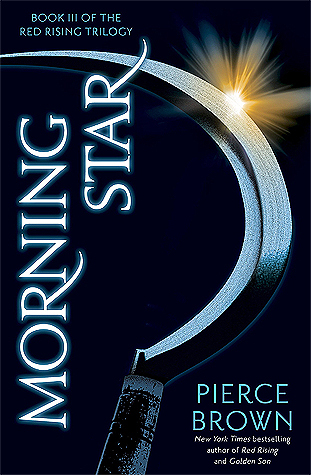 Morning Star (Red Rising #3)
By Pierce Brown
524 pages | February 9th 2016 | Del Rey
Darrow is a Helldiver, one of a thousand men and women who live in the vast caves beneath the surface of Mars, generations of people who spend their lives toiling to mine the precious elements that will allow the planet to be terraformed. Just knowing that, one day, people will be able to walk the surface of the planet is enough to justify their sacrifice. The Earth is dying, and Darrow and his people are the only hope humanity has left. Until the day Darrow learns that it is all a lie. That Mars has been habitable - and inhabited - for generations, by a class of people calling themselves the Golds. A class of people who look down at Darrow and his fellows as slave labour, to be exploited and worked to death without a second thought. Until the day Darrow, with the help of a mysterious group of rebels, disguises himself as a Gold and infiltrates their society.
You know you're reading a brilliant novel when one moment you're laughing out loud and the next you're sobbing in the corner. Only a truly brilliant story can have you simultaneously praising and cursing the author who wrote it. One moment I was throwing the book across the room, only to run and grab it so I could continue reading. This is a book you will not be able to put down, no matter how much of a rollercoaster it is.
This book is a verity of emotions and the perfect conclusion to this epic trilogy. The problem with many series is that even though the individual books are good, they don't always support each other to create a cohesive story. Morning Star did this, it picked up right where it needed to and tied everything together. There is not one book or another in this series that is better than the next, nor do you find yourself disappointed with the sequels.
This series is well written, complex, unpredictable and entertaining. It is a star in its genre and well worth the praise and hype it gets. An absolute must read for sci-fi fans.
Pierce Brown spent his childhood building forts and setting traps for his cousins in the woods of six states and the deserts of two. Graduating college in 2010, he fancied the idea of continuing his studies at Hogwarts School of Witchcraft and Wizardry. Unfortunately, he doesn't have a magical bone in his body. So while trying to make it as a writer, he worked as a manager of social media at a startup tech company, toiled as a peon on the Disney lot at ABC Studios, did his time as an NBC page, and gave sleep deprivation a new meaning during his stint as an aide on a U.S. Senate Campaign.
Now he lives in Los Angeles, where he scribbles tales of spaceships, wizards, ghouls, and most things old or bizarre.
Note to the reader: Always feel free to contact him via his website, twitter, or facebook. He likes people. Except if you're a trollish person. Then he merely puts up with you for the sake of manners and propriety.
JOIN ME ON SOCIAL MEDIA