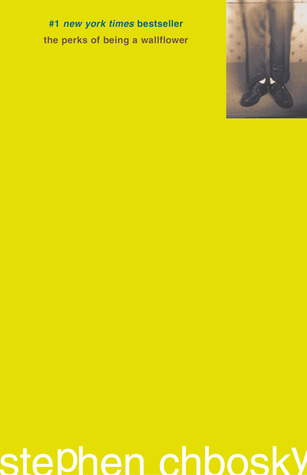 The Perks of Being a Wallflower
by
Stephen Chbosky
213 pages | February 1st 1999 | MTV Books and Pocket Books
Charlie is a freshman.
And while he's not the biggest geek in the school, he is by no means popular. Shy, introspective, intelligent beyond his years yet socially awkward, he is a wallflower, caught between trying to live his life and trying to run from it.
Charlie is attempting to navigate his way through uncharted territory: the world of first dates and mix tapes, family dramas and new friends; the world of sex, drugs, and The Rocky Horror Picture Show, when all one requires is that perfect song on that perfect drive to feel infinite. But he can't stay on the sideline forever. Standing on the fringes of life offers a unique perspective. But there comes a time to see what it looks like from the dance floor.
This book changed my life. After glancing over other reviews, I feel the need to start with this. If you've never been Charlie in any way shape or form, it might be hard to like this book. Unfortunately, I think these days the majority of us are Charlie and so this is why we find it so easy to fall in love with his story.
It's important for everyone to understand I think, before starting this book that Charlie suffers with mental illness. On top of this, he carries around self-blame for so many things that were not his fault. His aunts death, his only friends suicide, his own suicide attempts.
Charlie is an empathizer. He looks around and sees the suffering of the people he loves and it hurts him. He keeps their own secrets that it grows as a burden on his own past, which he is denying to himself.
Charlie starts to book writing to 'a friend'. The friend is himself. As part of his therapy and rehabilitation, his doctor asks him to write these letters to himself as a way to get his feelings and concerns out. As a writer, I know that this works. The only thing that saved me in Junior high was the journals I kept, and music. After all, when you're writing in your journal, you're writing for yourself, for the eyes of no one else. It's all for you to remember, and as a way to heal, a healthy way to spill your deepest secrets, fears and concerns.
This is not an underdog story. Charlie goes from being quiet, unnoticed and generally uncool, to making friends. He does not become instantly popular, because while he has friends they too are all secretly screwed up in their own ways. It becomes clear that everyone, even the people he idolizes have secrets.
The ending is perfect. Because Charlie finally accepts and deals with his own problems instead off solely focusing on the troubles of those around him. He ends his letter writing to 'participate in life' instead of being the silent observer, or wallflower.
Stephen Chbosky grew up in Pittsburgh, Pennsylvania, and graduated from the University of Southern California's Filmic Writing Program. His first film, The Four Corners of Nowhere, premiered at the 1995 Sundance Film Festival and went on to win Best Narrative Feature honors at the Chicago Underground Film Festival.
He is the recipient of the Abraham Polonsky Screenwriting Award for his screenplay Everything Divided as well as a participant in the Sundance Institute's filmmakers' lab for his current project, Fingernails and Smooth Skin. Chbosky lives in New York.