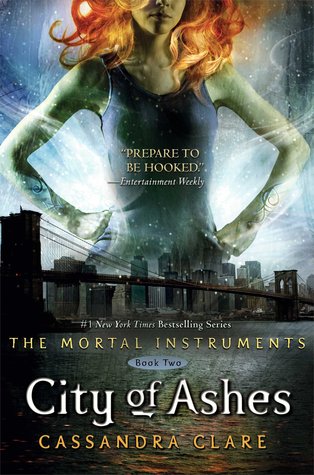 City of Ashes
(The Mortal Instruments #2)
By
Cassandra Clare
Published by
Margaret K. McElderry Books
Pages
453
Rating:
4/5
Clary Fray just wishes that her life would go back to normal. But what's normal when you're a demon-slaying Shadowhunter, your mother is in a magically induced coma, and you can suddenly see Downworlders like werewolves, vampires, and faeries? If Clary left the world of the Shadowhunters behind, it would mean more time with her best friend, Simon, who's becoming more than a friend. But the Shadowhunting world isn't
ready to let her go — especially her handsome, infuriating, newfound brother, Jace. And Clary's only chance to help her mother is to track down rogue Shadowhunter Valentine, who is probably insane, certainly evil — and also her father.
To complicate matters, someone in New York City is murdering Downworlder children. Is Valentine behind the killings — and if he is, what is he trying to do? When the second of the Mortal Instruments, the Soul-Sword, is stolen, the terrifying Inquisitor arrives to investigate and zooms right in on Jace. How can Clary stop Valentine if Jace is willing to betray everything he believes in to help their father?
In this breathtaking sequel to City of Bones, Cassandra Clare lures her readers back into the dark grip of New York City's Downworld, where love is never safe and power becomes the deadliest temptation.
Oh this book. If you read my review for City of Bones you'll know that I read this one in quick succession. I decided to continue reviewing this series due to the recent start of the Shadowhunters TV series. It was what I would call an angry read, because I was still so angry about the revelation in the last book and having to see it play out in this book was so frustrating. Luckily it was a great book so I couldn't just be solely angry, I was also hooked into the story. I wanted to see how the characters changed and adapted, I wanted to know what was going to happen to them.
It picks up a little bit after the previous one ends. Clary and Jace struggle to figure out where they fit in one another's lives with the new revelations. In an effort to distract herself, she gives her BFF Simon the chance to be just her BF, and it's all kinds of wrong. I love Simon Lewis, to the extreme he is a great, witty, snarky character. What I do not love though, is him with Clary. Their bond is truly more of the sibling bond she suspects she should be having with Jace, and seeing them in this romantic relationship (while Simon's dream come true) is just painful.
While the book offers up a love triangle, there really isn't one. Simon was never a contender and this book sort of goes to show that. Romance plots aside, overall it's an exciting and intense read. I will warn you however that this book DOES NOT remedy the horror revelation of the first book. So you will HAVE to read the third book right away and that will be another angry read but absolutely worth it!
CASSANDRA CLARE was born overseas and spent her early years traveling around the world with her family and several trunks of fantasy books. Cassandra worked for several years as an entertainment journalist for the Hollywood Reporter before turning her attention to fiction. She is the author of City of Bones, the first book in the Mortal Instruments trilogy and a New York Times bestseller. Cassandra lives with her fiance and their two cats in Massachusetts
Goodreads - Website - Twitter - Facebook -
-
TWITTER
-
FACEBOOK
-
INSTAGRAM
-
GOODREADS
-
AMAZON
-